Product Description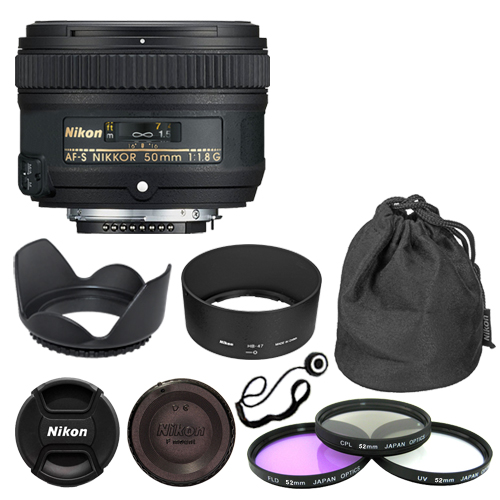 Nikon 50mm Lens

58mm Lens Hood

58mm 3 Piece Filter Kit

Lens Cap Keeper

Nikon AF-S Nikkor 50mm f/1.8G Lens
58mm Snap-On Lens Cap
LF-4 Rear Lens Cap
HB-47 Bayonet Lens Hood for AF-S 50mm f/1.4G
CL-1013 Soft Lens Case

58mm Hard Tulip Shaped Lens Hood (Black)
58mm Multi-Coated 3 Piece Filter Kit
Lens Cap Keeper

Nikon 50mm f/1.8G AF-S NIKKOR FX Lens for Nikon Digital SLR Cameras

The AF-S NIKKOR 50mm f/1.8G Lens from Nikon is an attractive alternative to the classic 50mm f/1.4 "normal" lens for everyday shooting with an FX or 35mm camera. The 50mm f/1.8 is nearly as "fast" as the f/1.4 and provides reduced lens flare and ghosting as well as superior color consistency through the use of Nikon's Super Integrated Lens Coating. One aspherical lens element virtually eliminates coma and spherical aberration.

Nikon's Silent Wave Motor gives you smooth, silent and precise autofocus operation, and the M/A mode lets you quickly and easily override the autofocus system for fine manual focusing. This lens is also compatible with DX cameras and when used with a DX camera, the angle of view would be equivalent to a 75mm focal length lens.
58mm Hard Tulip Shaped Lens Hood (Black)

This 58mm Pro Series Hard Tulip Shaped Lens Hood prevents image-degrading lens flare by blocking stray light from striking the surface of the lens. It also assists in keeping moisture or wind blown debris off the lens. It protects the front barrel from the inevitable impacts against walls, door frames and other real life obstacles.
58mm Multi-Coated 3 Piece Filter Kit

These filters, made from the finest solid optical glass, are ground and polished to the most practical thinness. In addition, they are heat-treated to avoid any distortion or focal shift, and each filter is subject to strict tests in order to ensure a flawless, even surface, which is essential to a quality filter and exceptional photographs.

Key Features:

Fits 58mm lenses
Ideal for protecting your valuable lens from scratches and dust
UV filter absorbs ultraviolet rays to produce crisp, clear photographs
Polarizing filter eliminates reflections from non-metallic surfaces, and increases contrast and color saturation
FLD filter helps balance light in outdoor situations or where fluorescent lights are used

Lens filters are translucent glass placed in front of a camera lens to alter or adjust the light entering the camera and to protect the camera lens. Lens filters improve photographs by giving photographers control over light and allowing them to emphasize the features of a scene that they consider most important. This particular filter kit is a combination of the three essential filters no photographer should be without.

Filters are one of the most least expensive accessories You'll use to make big changes in the way your pictures look.

UV Filters
A UV filter is used to reduce UV rays from entering the lens and striking the film. Modern lenses continuously have UV protection built into them as well as digital sensors, alternatively, UV filters are commonly used to help protect the surface of the lens from scratches, smudges, dirt and other hazards.
Circular Polarizing Filters
No camera bag should be without a polarizing filter, whether you shoot digital, color film, color slide, or black and white. A polarizer is different than most filters in that it is composed of two pieces of glass, mounted independently inside a round frame so that one can be rotated relative to the other. As it is rotated, it increasingly cuts out glare and haze. With an SLR, You'll actually observe this change through the viewfinder. Polarizers reduce glare from water, glass, or any non-metallic surface. You'll also use a polarizer filter to darken blue skies.
FLD Filters
A FLD filter (fluorescent light correction) provides the perfect solution for obtaining pleasing skin tones and correct color at the same time as shooting without a flash under fluorescent lighting. This filter gives true-to-life color rendition by removing the harsh yellow-green cast ordinarily resulting from fluorescent bulbs. When shooting under natural light, a fluorescent filter dramatically increases color saturation of subjects such as sunrises and sunsets.
Lens Cap Keeper

The perfect way to keep track of your lens caps. A small button tapes onto the front of your lens cap and the elastic loop goes around the barrell of your lens so that your lens cap all the time remains attached, hanging from the lens. Never lose a lens cap again!
Domestic Payment Options

PayPal
For your convenience we will process all orders including PayPal payments over the phone.

We can only ship to the address we receive from PayPal.
Please make sure you choose the correct address when you make the payment. If you have any questions please contact us before paying and We will be able to be happy to help.

Credit cards
Visa, Mastercard, American Express & Discover. Please call 718-673-2090 to pay with your credit card.

We can only ship to the credit cards billing address.
If you wish to ship the package to an address which is not your billing address Please contact us and we?ll make further arrangements for alternate addresses.

Domestic Shipping

Insurance and upgraded shipping is available on all packages, call for our best quote.

International Payment Options

PayPal
We can only ship to the address listed on your PayPal payment.
Please make sure you choose the correct address when you make the payment. If you have any questions please call us before paying and We will be able to be happy to help.

Credit cards
Visa, Mastercard, American Express & Discover – You'll pay with your LOCAL card. Please call +1.718.673.2090 to pay for your item.

international SHIPPING

Customs & Duties
International buyers are responsible for any and all customs, duties taxes and brokerage fees to be paid to the courier or government. Please contact your local customs office with further inquiries in this issue. RedTagCamera assumes no responsibility with respect to any tariffs, duties, or any and all other charges requested or required by destination countries.
When clicking the Buy-It-Now button or placing a bid you automatically enter into a legally binding contract to purchase the item. Please commit to buy only after you made a decision to purchase & you are ready to pay.

A minimum 5% cancellation fee will apply to all orders that are not paid or returned for non-defective reasons.

There will be no price protection, if the price of an item changes after purchasing.

We are required to collect state tax from NY state buyers.

If you have received wrong or defective item(s), please ensure that items are returned to us within 14 days in original packaging in brand new and resalable condition. You will be required to contact us for a return authorization form before sending anything back to us.

All returns must include original box, original factory packaging (foam plastic wrappings, etc.) Do not deface original factory cartons or packaging in any manner. We will be able to not accept a return if the goods are not in its original condition.

Do not discard box, until equipment has not been tested.

Whether you are just taking the time to view our products or a buying customer, you matter to us.

Sunday – Thursday 9:00 AM-7:00 PM
Friday 10:00 AM – 2:00 PM
Extended hours: 9:00 PM – 12:00 AM

Phone 718-673-2090

A RedTag Experience!