Product Description
var client = "110286"; document.write ("
"); document.write (""); var userid = "newegg"; var storename = "Newegg"; var seller = "1072362468"; var storeid = "0"; var xcats = " "; var xpromo = " "; var catson = ""; var promoon = "";
if(typeof frameSrc == "undefined") var frameSrc= "";
var scriptsloaded = "N"; var itemid = "0"; var c= "0"; var domain = "ebay.com";
Intel Ultra-slim PC Compute Stick Intel Atom Z3735F (1.33 GHz) 2 GB DDR3L 32 GB
IMPORTANT :

Limit 5 per customer!

Orders that exceed listed availability will automatically be voided without notice.
Click here to view full size.
Full Size Image
Click to close full size.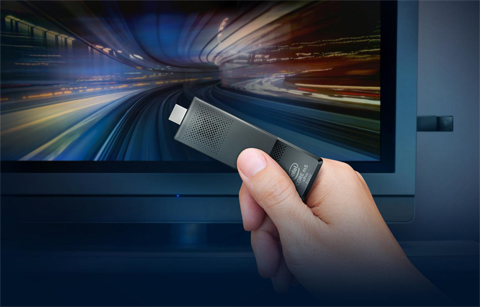 Incredibly compact. Amazingly powerful.

The Intel Compute Stick sets a new stand for stick computing devices, with full computer performance at the dimension of an over-sized thumb drive. It connects to HDMI input of your monitor or TV, and transforms them into a fully-fledged computer. The quad-core Intel Atom processor and 2GB memory deliver the computing power you wish to have for everyday tasks, like streaming online media, social networking, web browsing and light, casual games. The 802.11n wireless LAN enables fast network connection, and the built-in Bluetooth lets you control this stick PC with Bluetooth keyboard and mouse. This gadget also features a USB port for use with peripherals, and micro SD slot for additional storage. Furthermore, it is pre-installed with the Windows 10 operating system thus you'll stay productive out of the box.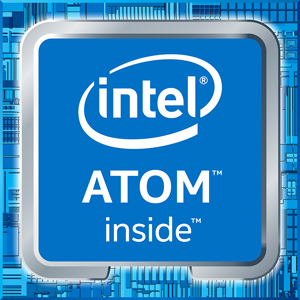 Built for Performance

While the Intel Compute Stick is small in stature, it's what's inside that makes the biggest difference: the quad-core Intel Atom Z3735F, 2GB DDRL memory and 32GB eMMC flash storage, delivering sufficient performance and capability that allows you to run multiple programs at the same time without slowing down the computer.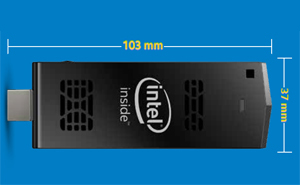 Sized for Convenience

It's not like a pc. It is a pc. Same operating system, same top of the range graphics, and same wireless connectivity as a full-sized computer. Totally different dimensions.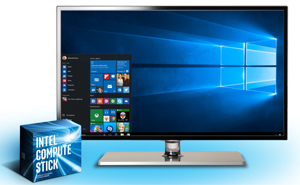 Ready Out Of the Box

Pop it out of the box. Pop it into your TV. Go. It's that easy to transform any HDMI* TV or monitor into a pc.
Usage Models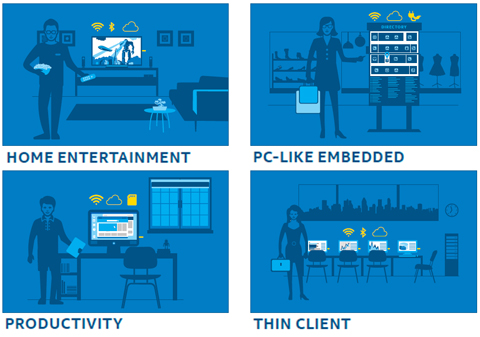 Small enough to fit in the palm of your hand, the Intel Compute Stick also offers reliability and Plug-and-Play ease of use so you'll use it when, where and how you wish to have. The Compute is a versatile solution for home, business, and PC-like embedded applications.
Learn more about
Intel Compute Stick
Shipping
Enjoy fast and reliable shipping when you buy your products from Newegg. Our ordering and shipping services are among the finest in the industry due to short processing times and a variety of shipping methods. Your orders are packaged at some of the many local warehouses across the country, minimizing delivery times and ensuring you get your purchases as soon as imaginable.
Payments
Newegg has partnered with PayPal to offer you the very best in payment services. PayPal allows you to buy with confidence, knowing your payments are processed quickly and securely with state-of-the-art encryption technology.
Returns
Newegg understands that not every purchase is a good fit for every customer. That's why we make the return process as simple as imaginable using the eBay interface. Combining the best of both worlds, you are going to receive the award-winning Newegg customer service that millions of consumers know and enjoy even as using a familiar and convenient interface.
Frooition www.frooition.com | eBay design, eBay store design, eBay shop design, eBay template design, eBay listing design
This listing is currently undergoing maintenance, we apologise for any inconvenience caused.
document.write ("<"+az+bz+cz+" type='text/javascript'"+dz+ez+c+">"); document.write(""+az+bz+cz+">");