Product Description
Canon EOS Rebel T5 1200D SLR Camera + 3 Lens 18-55 IS +24GB KIT & More Brand New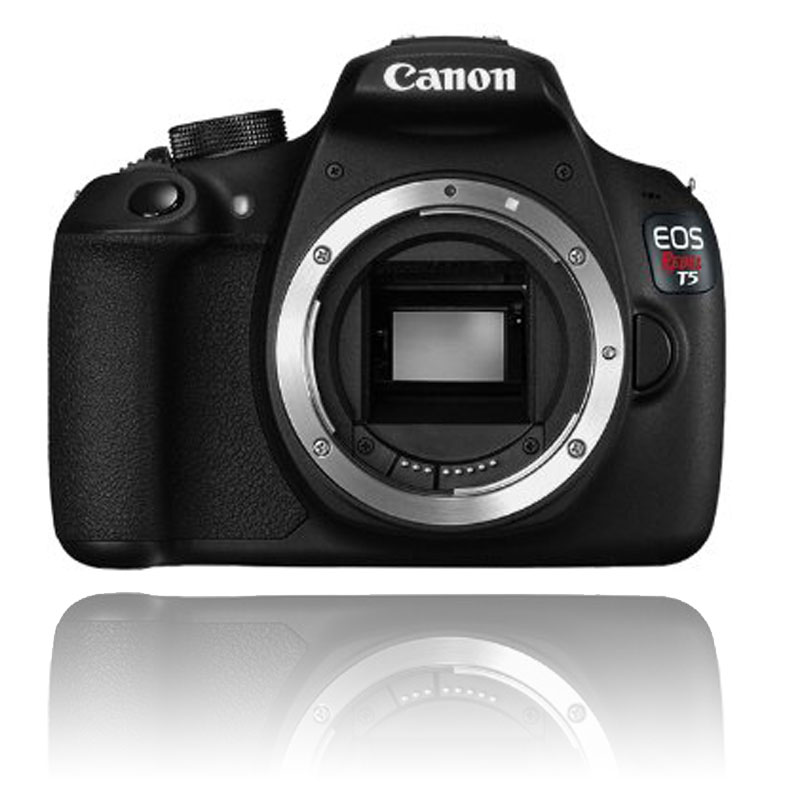 SKU: CAT5BK4
In The Box
EF-S 18-55mm f/3.5-5.6 IS II Lens

Eyecup Ef for Digital Rebel Cameras

RF-3 Camera Cover

LC-E10 Battery Charger for EOS Rebel T3

LP-E10 Lithium-Ion Battery Pack

E-58 II 58mm Lens Cap

Lens Dust Cap E (Rear)

Battery Cover

IFC-130U Interface Cable

EOS Digital Solution Software

Macro Booklet

Flash Booklet

Strap

Limited 1-Year Warranty
Additional Items Included
Canon EOS Rebel T5 EF-S Body
Canon Zoom Wide Angle-Normal EF-S 18-55mm f/3.5-5.6 IS Autofocus Lens
High Definition 58mm Wide Angle Lens
58mm 2X Professional Telephoto Lens
Digital DSLR Auto Power Slave Flash
Transcend 16GB Class 10 SDHC Card (TS16GSDHC10)
Transcend 8 GB Class 10 SDHC Flash Memory Card TS8GSDHC10
50" Photo Video Quality Tripod
Water Resistant Shock Proof Camcorder & SLR Camera Case
3 Piece Filter Kit (UV-CPL-FLD) 58mm
58mm Ultraviolet UV Protector Filter
RS60 Remote Switch for Canon
Hi-Speed SD USB Card Reader
General Brand SLR/DSLR Pro Hand Camera Grip
Lens Cap Holder
Camera & Lens 3 Piece Cleaning Kit
Tri-fold Memory Card Wallet
LCD Screen Protectors (Clear)
Table Top Tripod
Item Description
Kit Includes EOS-T5 Body, Eyecup Ef, Camera Cover R-F-3, Wide Strap EW-300D, Battery Charger LC-E10, Battery Pack LP-E10, Battery Cover, Interface Cable IFC-130U, EOS DIGITAL Solution Disk, EF-S 18-55mm 1:3.5-5.6 IS II, Lens Cap E-58II, Lens Dust Cap E, Camera Instructional Manual Basic (E), Camera Instructional Manual Basic (S), Camera Instructional Manual CD (5ML), Software Instructional Manual CD (5ML), Camera Warranty Card, Lens Warranty Card, Macro Booklet (E), Flash Booklet (E)
Item Specifications
18.0 Megapixel CMOS (APS-C) image sensor and high-performance DIGIC 4 Image Processor for excellent speed and quality.
ISO 100-6400 (expandable to H: 12800) for shooting from bright to dim light.
EOS Full HD Movie mode helps you capture brilliant results.
Scene Intelligent Auto mode helps deliver expertly optimized photos and offers improved scene detection for amazing results when shooting at night.
9-point AF system (including one center cross-type AF point) and AI Servo AF help provide necessary options for impressive autofocus performance and accurate results.
Canon EOS Rebel T5 EF-S Body

Kit Includes EOS-T5 Body, Eyecup Ef, Camera Cover R-F-3, Wide Strap EW-300D, Battery Charger LC-E10, Battery Pack LP-E10, Battery Cover, Interface Cable IFC-130U, EOS DIGITAL Solution Disk, EF-S 18-55mm 1:3.5-5.6 IS II, Lens Cap E-58II, Lens Dust Cap E, Camera Instructional Manual Basic (E), Camera Instructional Manual Basic (S), Camera Instructional Manual CD (5ML), Software Instructional Manual CD (5ML), Camera Warranty Card, Lens Warranty Card, Macro Booklet (E), Flash Booklet (E)
Canon Zoom Wide Angle-Normal EF-S 18-55mm f/3.5-5.6 IS Autofocus Lens

The Canon 18-55mm f/3.5-5.6 EF-S IS Lens is a standard zoom lens that features the smaller size image circle, exclusively designed for EOS Digital Rebel and other cameras using the APS-C size sensor. The focal length is equivalent to approx. 28-90mm in 35mm format. This makes it ideal as a basic everyday lens. This lens features Canon's optical Image Stabilizer technology, which provides up to 3-4 stop compensation for image blur caused by camera shake and slow shutter speeds. This ensures clear, crisp images, even in dim light. Designed specifically for digital photography, the lens has specially shaped lens elements and Super Spectra coatings to suppress ghosting and flare, which can be caused by reflections off digital camera sensors. An exclusive optional lens hood can further reduce the incidence of flare. Only fits on the EOS Digital Rebel or 20D, 30D 40D SLR (or newer model) cameras Features: Uses optics designed to take full advantage of the small image circle and short back focus in EF-S lenses Optimized lens coatings minimize flare and ghosting which are prone to occur with digital cameras Compact and ultra-lightweight with impressive close-focusing ability of 9.8 (25 cm) Includes 1 Aspherical lens element Circular aperture diaphragm produces a more attractive appearance to out-of-focus background areas in photos shot using the widest apertures
High Definition 58mm Wide Angle Lens

This high definition wide angle professional lens screws onto any existing lens system with a 58mm thread. The lens is perfect for panoramic scenery shots and large groups of people by increasing your angle of view.
58mm 2X Professional Telephoto Lens

The Telephoto Converter Lens brings distant subjects closer. The 2X
Telephoto extends the focal length of the camcorder lenses 2.0 times,
bringing things twice as close throughout the zoom range
Digital DSLR Auto Power Slave Flash

The powerful yet affordable DSLR Digital Slave Flash is a sturdy unit with selectable firing and built-in digital slave
circuitry. Plus, it has 3 power levels to give you control over light
output, and features a switch on the back which lets you select
between the two different triggering modes, making it compatible with
any camera on the market.
Transcend 16GB Class 10 SDHC Card (TS16GSDHC10)

16GB Data Storage Capacity
Class 10 Speed
Min. Read / Write Speed: 10MB/s
Lifetime Warranty
Transcend 8 GB Class 10 SDHC Flash Memory Card TS8GSDHC10

As high-tech gadgets become increasingly advanced with ever-improving
video and audio quality, we find ourselves needing extra speed and
memory capacity to store our high-resolution digital masterpieces.
50" Photo Video Quality Tripod

The 50-Inch Photo and Video tripod features a special carrying handle as well as a professional grip. With its self leveling rubber leg tips it offers a great floor grip for positioning and built in bubble leveler to give you a leveled shot. Capability for a 360 degree spin with its 3 way pan head doesn't hurt for convenience. There are bracing sections to adjust Tripod size and an additional Bonus of Tripod case. What else are you able to ask for as a free bonus with your purchase.
Water Resistant Shock Proof Camcorder & SLR Camera Case

Easily pack your camera and all parts in this sturdy, shock proof SLR
camera bag. The padded interior and spacious
design will not only keep your camera safe, but will provide enough
space for all your essentials. Includes a shoulder strap for easy
carrying.
3 Piece Filter Kit (UV-CPL-FLD) 58mm

These filters, made from the finest solid optical glass, are ground and polished to the most practical thinness. In addition, they are heat-treated to avoid any distortion or focal shift, and each filter is subject to strict tests in order to ensure a flawless, even surface, which is essential to a quality filter and exceptional photographs.

1. Fits 58mm lenses
2. Ideal for protecting your valuable lens from scratches and dust
3. UV filter absorbs ultraviolet rays to produce crisp, clear photographs
4. Polarizing filter eliminates reflections from non-metallic surfaces, and increases contrast and color saturation
5. FLD filter helps balance light in outdoor situations or where fluorescent lights are used
58mm Ultraviolet UV Protector Filter

The

58mm UV Protector Filter

is a general use, clear

filter that helps to absorb ultraviolet light and reduce the bluish cast

of daylight. This filter is especially useful when photographing at

high altitudes or around bodies of water. No additional coloration or

contrast is provided, allowing you to pair this filter with others.

The
UV filter is also useful as a general protective filter to leave on
lenses all the time. Filters help to reduce dust and moisture from
reaching your lens element and provide additional protection in case of
drops or situations where scratching could occur.
RS60 Remote Switch for Canon

No rushing to get in the picture before the self timer goes off
Wired
Great for Family shots and self portraits!
Hi-Speed SD USB Card Reader

A card reader is a small piece of hardware with simple Plug & Play features that connects directly to your PC via a USB port and allows you to transfer pictures & other media files without the need to plug your camera to the PC.
General Brand SLR/DSLR Pro Hand Camera Grip

Keep your camera safe from drops, and stabilize your shooting with the VivitarVIV-SLR-HGR SLR/DSLR Pro Hand Grip. The Vivitar VIV-SLR-HGR SLR/DSLR Pro Hand Grip also reduces wrist fatigue during long photo sessions so You'll be more comfortable. Get the Vivitar VIV-SLR-HGR SLR/DSLR Pro Hand Grip today.
Lens Cap Holder

Prevents lens cap loss with adhesive-backed disc attached lens cap.
Holder has an elastic band which fits around the lens barrel for use
with SLR type cameras. A small button tapes onto the front of your lens cap and the elastic loop goes around the barrel of your lens so that your lens cap all the time remains attached, hanging from the lens.
Camera & Lens 3 Piece Cleaning Kit

This 3 piece Camera Lens cleaning kit is perfect to carry in your camera bag. It includes 5 cotton swabs, a bottle of cleaning fluid and a soft-tex fiber cloth.
Tri-fold Memory Card Wallet

Memory Card wallet holds up to 3 memory cards (SD, CF or MS) in secure
pockets. It is made of a sturdy fabric with Velcro, in a fashionable
design.
LCD Screen Protectors (Clear)

The screen protectors are perfect for digital camera screens, cell phone
screens and game player screens. 3 pieces of screen protector
are included with a squeegee card to smooth them out and remove air bubbles. NOTE: These LCD screen protectors need to be cut down to size to fit your screen - anywhere from 1"-4"
Table Top Tripod

The Flexible Leg Table top Tripod is designed to enable hands-free operation of cameras, so You'll put it on a tabletop or other flat surface and get a steady shot. The tripod features flexible legs that can be spread out or collapsed together. It's easy to store and carry and it features a quick setup.
Directly following the placement of your order an invoice will be sent to the email address registered with eBay. If an email from us has not been received please call us at 718-534-0510.
We usually process all orders within 24 hours of receipt, barring any verification delays.
YES! We accept PayPal payments from all countries. Please be advised PayPal payments may be subject for verification to give protection to against fraudulent accounts.
YES! We accept all major credit cards:
Visa, MasterCard, Discover, American Express, ATM debit cards
To pay with a credit card, please call us 888-453-7746
For your convenience we will be able to process all your orders including PayPal payments over the phone.
Alternate Billing/Shipping Address:
If your shipping address is different than your billing address, certain verification will be necessary. On payments made through credit card with an alternate shipping address, Photovideo4less will request a secondary address to be listed with the issuing bank.
If we require further verification, we will be able to send you an email at the email address registered with eBay, or contact you at the phone number provided.
Please make sure you complete payment within 7 days following the end of auction, since we cannot guarantee product availability after that time period.
Photo Video 4 Less reserves the right to refuse orders which the address, phone number or credit card cannot be verified.
International orders may be subject to local import fees, duty, customs, VAT charges or additional taxes, depending on the country of destination tax laws.
Photo Video 4 Less is not responsible for any of these tax charges, nor can we offer any specific advice on import fees, duty, customs, VAT or taxes that you may be obligated to pay upon the arrival of your merchandise. Should you have any questions or requests for specific information regarding any of these potential charges, we advise you to consult with your local government import office.
We will ship worldwide, to APO/FPO addresses included. Merchandise will be dispatched from our warehouse promtply after verification and payment has been completed.
NOTE: Upgraded shipping is available upon request. Please contact us for further information.
NO HIDDEN FEES APPLY.
Returns
When returning an item you must contact Customer Service at 718-534-0510 to obtain a return approval (RMA) prior to returning the item.
We can only accept a return if it is returned to us in the original manufacturer's packaging, same condition as sold, and with all literature/instructions/documentation and blank warranty cards.
Place the manufacturer's box into a shipping carton. Please do not place stickers or shipping labels on the original manufacturer's packaging.
The customer is responsible to arrange the return shipping and for its costs. For your protection, please insure the package and ship via a traceable method.
Our 14 day exchange policy applies to items received in defective condition. For return authorization please contact us via phone or email within this time frame. Merchandise shipped back without an RMA will be returned at the buyer's expense.
Please note - A package refusal will be recognized as an unauthorized return in which a 5% restocking fee, as well as the cost for the returned shipment will apply.
Items that are shipped free, if returned, a refund less our original shipping cost will be given.
eBay sales are final! A 5% handling and processing charge will apply for orders being cancelled or returned.
Photo Video 4 Less is known for providing cameras and photography equipment for the professional photographers industry since 2005. Although we specialize in professional photography equipment we carry a large selection for the amateur photographer as well.
We attribute our success to our competitive pricing and to our high standards of honesty and integrity. We stand behind our products as being he top of the range that customers expect to receive. Our high standard of honesty has gained us a respectful reputation in the photography industry and has earned us many repeat and friend referred customers.
When browsing our store, needless to say our friendly and knowledgeable staff are all the time ready to help you in finding the right equipment. So browse at ease and enjoy the widest selection of cameras, camcorders, printers, scanners, lighting equipment, tripods, lenses, flashes and much more.
At "Photovideo4less" customer satisfaction is our top priority. We love our customers and are eager to leave positive feedback once payment has been finalized.
We are confident that our customers will feel the same about us and express so by leaving us a 5 star rating on eBay.
Please note: The photographs of some accessories may not reflect the actual item shipped. At times, we may substitute accessories for similar ones of equal or greater value.
If the item listed comes provided with a manufacturer warranty, we will be able to specify.
You'll contact us for detailed warranty information.
Local pickup is also available at our Brooklyn location. Please contact us at 718-534-0510 for the necessary arrangements prior to purchasing.
We want to serve you, please call us.
We are open Monday - Friday.
To speak to a live representative, contact us at:
718-534-0510 or call us Toll Free at 888-453-7746.
Hours of Operation:
Monday - Thursday 10:00 AM - 5:30 PM
Friday 10:00 AM - 1:00 PM
For around the clock communication please send us an email anytime. Prompt replies will be given.