Description
12 in 1 Opteka Photo Lens Cleaning Kit for All Digital SLR Cameras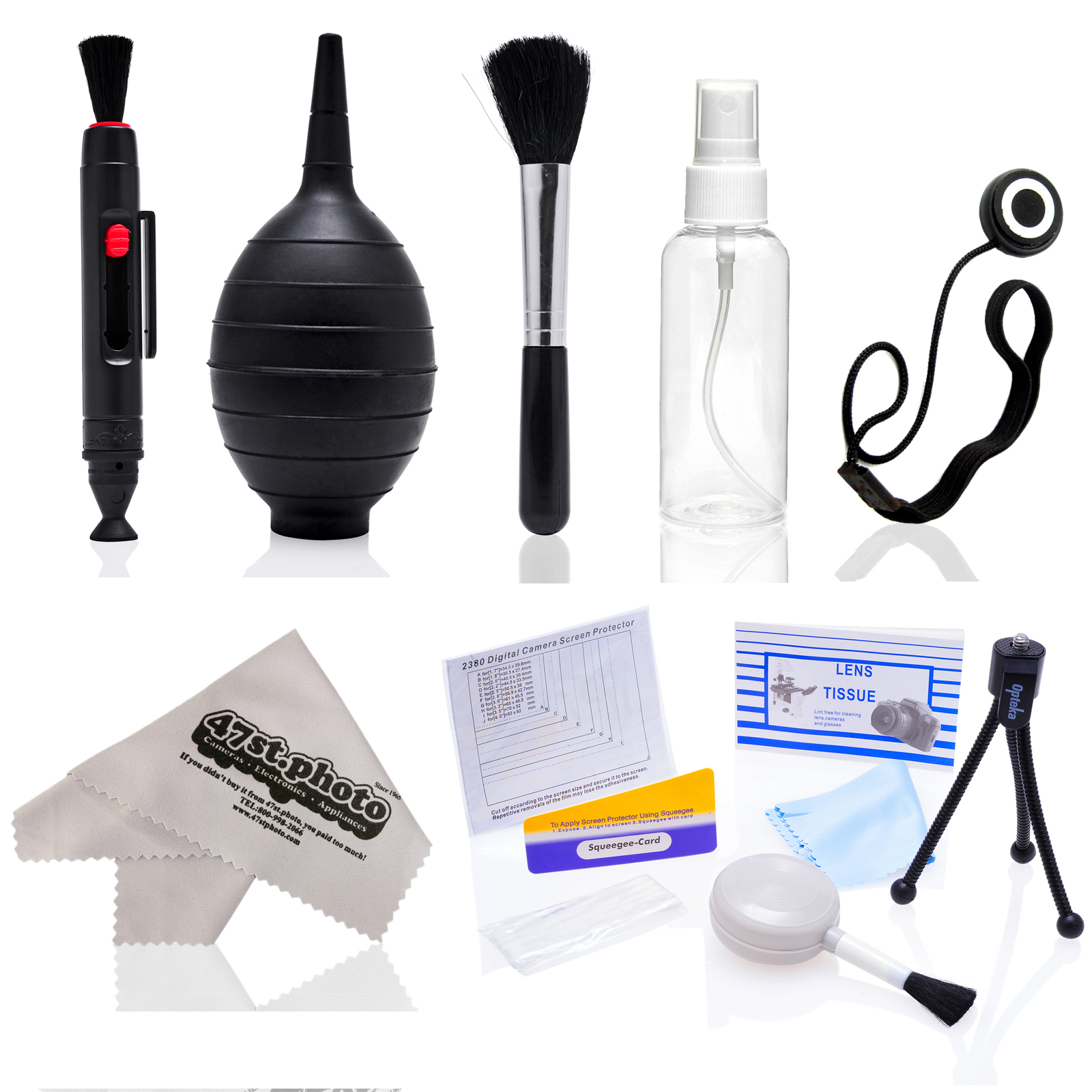 Lens Cleaning Pen
Description: Designed for cleaning lenses, binoculars, scopes, night vision goggles and other sport optical devices. Patented Carbon formula effectively cleans amino acids from fingertips and other sources from optics and screens without damaging the surface. Brush on opposite side of cleaning tip for removing surface dust. Safe for use on all optical lenses, LCD, plasma and glass surfaces.


Item Includes: Lens Cleaning Pen


Deluxe High Power Air Cleaner Blower
Description:
This dust-removal blower tool safely blows clean air to eliminate dust from sensitive or hard-to-reach surfaces, such as those on lenses, cameras, filters and keyboards. It is crafted from rubber that offers a virtually instantaneous rebound for a nearly continuous stream of clean air. Its long, thin nozzle features an opening designed to eliminate whistling, and can also be removed for cleaning. A one-way valve on the bottom brings in clean air and does not re-distribute dust.
Excellent way to remove dust off sensitive camera parts without physical contact
Safe for lenses, including multi-coated surfaces
Environmentally friendly & non-toxic
Made of top of the range rubber & plastic


Item Includes: Air dust blower


Photo Dust Brush for Cameras and Lenses
Description:
Cleaning brushes are useful in terms of keeping your cameras, lenses and optics free from dust and dirt. This tool can help you remove small dust particles from small areas that would ordinarily be impossible to reach. This compact style brush is an easy to carry brush for cleaning lenses and cameras. Great for cleaning optics and dusting equipment a must for any gadget bag.
Static-free and contains no abrasives or silicones
Soft bristles wipe away dust and dirt particles without damaging the surface
Lightweight and durable
Compact size for easy storage


Item Includes: Dust brush


Universal Lens Cap Keeper Holder
Description:
A lens cap keeper can save you numerous hassle and ensure the protection of your camera lens. You want the cap to keep the lens protected from scratching and from different kinds of harmful environmental effects. Then again, the cap can easily get lost when you are using the camera. This can happen easily, especially if you are totally focused on catching the moment for the perfect picture and absorbed in taking pictures for hours.
The lens cap keeper is a convenient, easy way to keep track of your lens cap. Don't lose any more lens caps–the Opteka Cap Keeper Lens Cap Holder keeps your lens cap close at hand. One end of the holder has an elastic band which attaches securely around the lens barrel, and the other end fastens to the lens cap via the adhesive-backed disc. This frees up both hands for any photographer. The cap remains tethered even as shooting and is easily retrieved when finished.
For use with cameras with interchangeable lenses
Elastic loop wraps around lens barrel for secure fit
Keeps your lens cap secure
Adds almost no weight


Item Includes: Lens cap keeper


Opteka Deluxe Camera Care Cleaning Kit
Description:
With an Opteka Lens/Camera cleaning kit it contains everything You want to maintain your Digital Camera! It cleans hard to reach lenses, protects battery contacts, and is very easy and safe to use. Works excellent for lenses, cameras, filters, and it also easily cleans LCD panels. The lens cleaning solution is specially made for removing oil and dirt. The Opteka table top tripod is ideal for backyard remark or anywhere – an ultra-compact tripod is all You want!
Opteka 3″ Compact Tabletop Tripod
Lens cleaning solution – made specially for removing oil and dirt
Double pressed micro-fiber cleaning cloth
Cleaning tissues
5PC Q-Tips
Blower brush
3PC LCD screen protectors


Item Includes: 3″ compact tabletop tripod, lens cleaning solution, double pressed micro-fiber cleaning cloth, cleaning tissues, Q-Tips, blower brush, LCD screen protectors


47th Street Photo Microfiber Cloth
Description: This Microfiber Cleaning Cloth from 47th Street Photo can be used to wipe off various contaminants from camera lenses, eyeglasses, telescopes, spotting scopes, or other valuable optics. The fine microfiber material removes lint, dust, dirt, and fingerprints. This cloth can also be used after applying cleaning fluid for a complete cleaning and to ensure that no streaks or spots remain. The cloth contains an easy grip, textured surface that makes it more effortless to use. Ideal for cleaning smudges, fingerprints, oil and dirt off your digital camera/camcorder and any other LCD or touch screen. Perfectly safe and effective on lenses as well.


Item Includes: 47th Street Photo microfiber cloth


For your convenience 47th Street Photo offers a 60 day return policy. Your satisfaction is our number one priority. If you are unhappy with your purchase you may return it for a refund or exchange. All product returns require a return merchandise authorization number (RMA). A RMA number must be issued within 45 calendar days after the date of purchase; it is going to be valid for 14 calendar days after it is issued.
Refunds
Refunds are applied to the payment method used at the time of purchase 5-10 days after receipt of the returned merchandise. We will be able to only refund the value of the merchandise returned, not the shipping charge.
Return Shipping
Return shipping cost is not reimbursable unless the mistake was made by 47th Street Photo.
Orders usually ship within 24 business hours from the time of payment (please exclude Saturday & Sunday). After an order is shipped, We will be able to email you with a tracking number and a copy of your invoice.
We do offer faster and quicker shipping methods. If the method does not appear at the time of checkout, please contact us.
Attention ALL International Buyers – Orders shipped outside the USA may be subject to local customs or duties. Please be aware that all countries have different procedures and fees for incoming packages. 47th Street Photo unfortunately does not have information on customs or duties, and we don't seem to be able to estimate these charges. Please check with the proper local authorities before placing your bid.
Import duties, taxes, and charges don't seem to be included in the item price or shipping cost. These charges are the buyer's responsibility.
Please check with your country's customs office to determine what these additional costs will be prior to bidding or buying.
Customs fees are typically charged by the shipping company or collected when the item is picked up. These fees don't seem to be additional shipping charges.
We cannot under-value merchandise or mark the item as a gift on customs forms. Doing so is against U.S. and international laws.
Although all packages are shipped the next business day and most international packages arrive to their final destination in less than 15 business days, some international packages may take as long as 30 days to arrive depending on each particular country's postal system.
Slower delivery time can be expected by some of our international buyers from Spain, and the Eastern European Countries. If You want your package quicker, please upgrade you're shipping speed. Thank you for your understanding.
We accept PayPal as a payment method for all domestic and international transactions to ensure safety & security. Packages destined to New York are charged an additional 8.875% in sales tax according to state law.
We reserve the right to ship only to a "PayPal Confirmed" address on all transactions.
Please Note: We are committed to the security of your payment information. Therefore, we reserve the right to reject a payment that is not verified and/or authenticated by PayPal . At our discretion, we reserve the right to ask the buyer to provide documentation to support their identity. If we cannot verify the buyers identity or shipping address, We will be able to issue a refund within three (2-3) business days.
Our hours of operation for Support are Monday through Thursday 10AM-6PM EST, Friday 10AM – 4PM EST.
You may call us toll-free at:
(800-304-2510)
(718-998-6666)